---
---
意大利经济增长放缓,企业对未来失去信心 MODEST ECONOMIC GROWTH (+1.6%) business confidence index down
In the second quarter of 2019 export decreased but import consolidated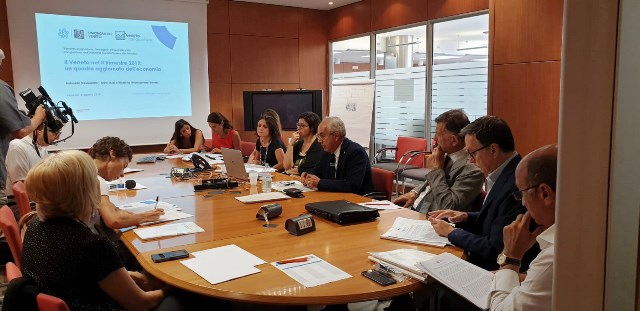 Source: Unioncamere Veneto press office
Unioncamere Veneto消息来源
威尼斯2019年02日
据VenetoCongiuntura的新市场调研数据显示,较2017年同比,2019年第二季度的工业总产值增加1.6%。
据工业生产指数的调查显示,威尼托大区2018年的增速放缓至3.2%,而2019年上半年的为1.5%。一季度数据显示,工业总产值的增幅为0.9%。
今天上午在威尼斯、罗维戈商会举办的记者会上,发言人表示,对于制造业研究调查,Unioncamere del Veneto对1800多家企业的样本进行研究调查。数据显示,这些企业工作人员的数量为10人以上。(https://www.venetocongiuntura.it/)
据Unioncamere del Veneto公布的报告,由于全球经济环境的影响,2019年第二季度的经济增长速度将放缓。
Unioncamere Veneto 会长Mario Pozza 表示,随着全球经济和国际贸易增速放缓,2019年意大利GDP的增幅为3.2%,大大低于大家的估计。
英国脱欧和不断提升的国际贸易摩擦的因素都让人们担心全球经济的未来走向。据预测,今年意大利的经济增长速度将放缓,2019年增长预计为0.1%,而2020年的为0.7%。 据Promoeteia预测,威尼托大区的GDP与上一年相比将增长0.5%。由于内需、外需放缓(增幅分别为0.7%、1.2%),家庭消费量表示平稳,而投资受到威胁。
Venice, 02/08/2019|
In the second quarter of 2019, according to the data provided by the survey VenetoCongiuntura, industrial production registered an increase of +1.6%, the same as last year.
Weaker recessionary trends were confirmed by an index measuring an average growth of +3.2% in 2018 and recording growth of
1.5% in 2019. The industrial production increased +0.9%
The analysis elaborated by Unioncamere Veneto on manufacturing industry which was presented this morning during a press conference at the Chamber of Commerce of Venice Rovigo is based on a sample of over 1800 enterprises having at least 10 employees. (www.venetocongiuntura.it).
The analysis of the second quarter of 2019 on the manufacturing industry shows a weak growth of the main economic indicators in response to a negative outlook for the national and international situation-underlines the President of Unioncamere Veneto, Mario Pozza.
From the end of 2018 the world economy and the international trade increased below expectations as the year 2019 closed with a GDP growth of +3.2%.
Trade disputes and Brexit created substantial uncertainty for Italian business, there are no expectations of a proper consolidated growth (+0,1% in2019, +0,7% in 2020).
According to Prometeia, the regional GDP is expected to register a slight increase +0.5% compared to 2018. Promoteia estimates a negative outlook due to the moderate growth of both internal and external demand ( respectively +0-7 and +1.2%), the stabilization of families' spending and the critical situation for investments. Tax reduction and a significant boost in infrastructures are two fundamental factors to consider for the next financial law.